Hello everyone! I finally finished the squid-dice-bag I've been working on. It is going to be a Birthday present for the boyfriend, (who hopefully doesn't read this blog. Because that would make me sad.)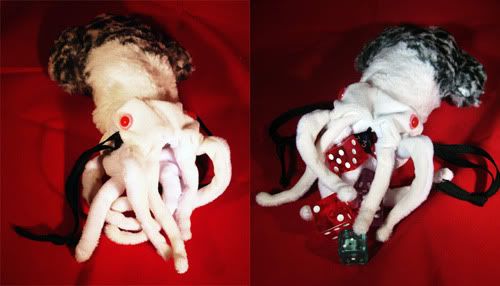 It doesn't hold quite as much dice as I had hoped, but overall I am satisfied with how it turned out..!
Aaand speaking of presents, Bethany over at
words, words, words
is hosting a Giveaway on her blog! You could win an incredibly adorable bookmark, courtesy of Anna from
airportlovestory
.
The bookmark will be similar to the one pictured on the right, but it will come in plum purple colors!
It is super cute, and I am definitely entering, (especially considering that my bus ticket it getting a little beaten up.) So you should totally go
Check It Out
for a chance to win a gorgeous new bookmark!